Remember the "Tide Pod Challenge?" That horrendous time at the beginning of 2018 when adolescents filmed themselves ingesting laundry detergent?
While it was a funny (albeit dangerous) start to the new year, this small boost of infamy was a PR mess for the detergent brand in question, Tide, whose crisis communication team had to figure out how to respond to America's teens swallowing their toxic product. Tide's parent company, Procter & Gamble, was swift in their response, thanks in large part to their communication plan.
Communication plans can help you clarify the purpose of a product launch or new initiative and officially determine the messages you want to deliver to your intended audience(s).
Additionally, a communication plan can help your business during a time of crises if a previous marketing message or business decision damaged your reputation with internal stakeholders or customers.
If companies don't have a communication plan, they'll be unprepared when disaster strikes. It may be unlikely that your company will find teenagers eating your product for internet fame, but not so unlikely that you'll never find yourself needing a procedure to effectively handle difficult situations.
Now that we've gone over how a communication plan can be helpful, let's learn how to write one that will be effective.
Featured Resource: Communication Plan Template [Download Now]
Need a free, easy-to-use communication plan template? HubSpot has 12. Check out this toolkit for everything you need to build your own.
This is part of a template offered in the toolkit. For this particular template, the organization is separated into phases, a description of that phase, and who needs to complete that action.
Communication plans can get tricky, but writing an effective one will prove itself with its longevity.
Download this Template for Free
This communication checklist below, by Prezly, gives a great overview of the details of a crisis plan from beginning to end. It can be used as an effective guide when drafting a crisis management strategy.
Image source: Prezly
1. Conduct an audit of your current communications materials.
Before sitting down to get rollin' on your plan, you need to first decide where it'll fit into your business. So it's important you complete a "state of the union", or an audit of the current climate of communications within your company. This can help you identify any problem areas.
For instance, let's say you need to create a communications plan for a new product launch. To create your plan, you'll first need to perform an audit to identify gaps in your current marketing approach.
After performing the audit, you might find there is a major gap in your marketing materials in which you rarely discuss a topic that aligns well with your new product. You'll want to ensure this topic makes it into your communications plan.
To conduct an audit, you'll need to carefully gather and interpret data on your current marketing plan performance and build a path forward based on those results. Additionally, you might consider hosting focus groups or sending surveys to your audience to find gaps in your current communications materials.
Of course, you'll want to have the goal of your communications plan in-mind when conducting an audit. In the example above, noticing you're lacking material on a certain subject only matters if your goal is to drive leads and conversions to a product that aligns with that subject.
For instance, if you're launching a new email marketing tool and you notice you're lacking content on Google Ads, this might not be relevant information for your communications plan. However, if you're missing content on email marketing best practices, that's important information you can use to tailor your communications plan appropriately.
2. Set SMART goals for your communications plan based on the results from your audit.
After your audit, you'll want to lay out a few goals based on the data from the results. What do you want to achieve with this plan?
When in doubt, remember that your goals should be SMART: Specific, Measurable, Attainable, Relevant, and Time-based.
For instance, if a small agency is writing a communications plan for its client, they might write a goal along these lines: "We plan to increase employment applications for our client by 25% over the course of one quarter."
Alternatively, perhaps your HR team needs to write a communications plan to pitch designing a new growth matrix for individual contributors who don't want to become managers.
If that's the case, your HR team will need to identify specific goals they hope to achieve as a result of their plan, even if the results are less quantifiable — for instance, their goal might be to "increase employee retention rates by 10% over the next year" or even "increase employee satisfaction, as indicated by their next NPS scores." They'll need to pitch these goals to stakeholders to get leadership on-board.
3. Identify the audience to whom you plan to deliver your communications plan.
Good communication starts with knowing and understanding your listener. In this case, if a crisis communication plan is for stakeholders, which one(s) are you writing for? Stakeholder examples include employees, investors, customers, local government officials, or media outlets.
If you're writing for media outlets, a press release detailing your goals is a good idea for that audience. There should be a process for who will speak to the media outlets, an outline of what they will say, and an action plan put in place moving forward.
Alternatively, if your audience is your employees, you might want to create an up-to-date internal document for employees to refer to, as well as the contact information for the internal DRI if they have follow-up questions.
4. Outline and write your plan, keeping your audiences in-mind.
When you're ready to outline and write your plan, it's likely easiest if you start with a table or chart to identify the messages you need to promote, to whom you're targeting those messages, and on which channel(s).
Once you've created a general outline, here's how you'll want to structure your communications plan (feel free to copy these sections into a Table of Contents for your own plan):
Purpose (what is this communications plan for)
Escalation Framework (including 'first line of defense' and 'greater response team')
Roles and responsibilities of each employee
Do's and Don'ts
How to maintain an effective response plan
(If you need help writing a communications plan, download our free, ready-to-use communications plan templates.)
When writing your communication plan, work with groups or representatives from your stakeholders to improve accuracy. Strategies should solve for goals or potential risks.
For instance, if you work for an agency aiming to promote a client's product, a risk might be spending money on paid ads without a guaranteed ROI. To solve for that risk, the agency should detail different steps to ensure the ads are effective before going public.
5. Determine the channel(s) on which you need to deliver your messages.
The channels you choose to communicate with your audience depends on your message, and to whom you want to deliver that message. For instance, if you're creating a communications plan for internal employees, you might send out your communications plan in a company-wide email, or use in-person team meetings to deliver your message.
Alternatively, if you're communicating with customers, you might determine it's best to communicate via an email newsletter, or via a press release.
Of course, the channel(s) you choose will depend on your goals, but it's important as you're writing your communication plan that you keep your distribution methods in-mind.
6. Decide which team members are responsible for delivering the message.
Once you determine your audience and channel(s) on which you'll deliver your communications plan, figure out the DRI for delivering the message.
For instance, if your HR team is pitching a new growth matrix to leadership, you might ask your Director of HR to deliver the initial pitch in the first meeting. Once leadership is on-board, you might ask each HR representative to deliver one training session for each internal team to ensure every employee understands what's changing internally, and why.
7. Estimate a timeline for how long each step should take.
You should have a ballpark estimate of how much time each step in executing your strategy will take. For instance, if your plan needs to go from the higher-ups down to the employees, it's good to take into account how long going through the chain of command will take. It's also smart to infer how long a media cycle will last.
For instance, for a minor slip-up on an ad campaign, the advertising agency might estimate the cycle for controlling the issue will take a month — including meeting with the client, stakeholders, and employees to discuss steps moving forward.
8. Measure the results of your plan after presenting to stakeholders, and determine successes and areas for improvement.
There's always room for improvement. Measure the results of the plan after presenting it to stakeholders, and determine aspects that went well, and areas for improvement next time.
For instance, the ad agency might not have met its goal of increasing prospective applications by 25% within a quarter. They might rework their goals to give themselves more time or pivot their quarterly focus to fit those goals.
Alternatively, if you notice certain language in your communications plan evoked a level of stress or fear with internal stakeholders, consider how you can re-word next time to ensure your communications plan feels helpful, beneficial, and positive.
Some aspects of building a communication plan can be a "choose your own adventure" journey. The key is choosing aspects that best reflect what your business needs in times when effective communication is key. What do your stakeholders need to know, and how are you going to best communicate that?
Communication Plan Examples
A basic communication plan should include an analysis for the stakeholders you'd respond to and the procedures for what to include in those conversations. You might also include an overview of your business, potential communication challenges, and risk management strategy.
Bright Hub Project management has an example that includes how to put this information — and more — into your communication plan as a project manager.
This example is great because it details how communication managers write crisis plans and acknowledges that sometimes the busy marketer or project manager does as well.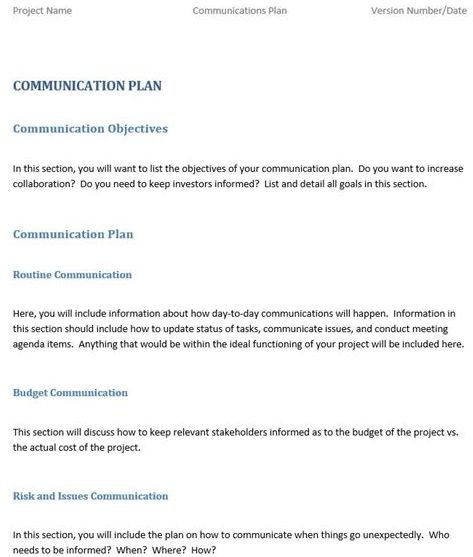 Source: Bright Hub
The National School Public Relations Association has a free version of a sample communication plan in PDF format. It's a great example of how to format a crisis strategy and how to fit your budget into the plan:
Finally, here's an example of a Billing Upgrade Project from Simplicable. As you can see, the communications plan includes necessary sections including audience, goals, format, and DRI:
Source: Simplicable
Finally, here are some extra tips to keep in mind to help your plan shine: when describing procedures for handling crises, include who the situation involves. This lets stakeholders envision decision-making processes.
Additionally, if you're part of a larger company with a broad stakeholder list, it's okay to split up target audiences for your plan.
For instance, maybe your audience is more than just "consumers." Split stakeholder groups for easier comprehension and more distinct solutions.
Ultimately, your communications plan needs to clearly and succinctly provide necessary information to everyone involved in the business decision, product launch, or PR crises. Use the strategy mentioned above, as well as our communication plan templates, to ensure yours is as effective as possible.
Read more: blog.hubspot.com